The Effective Singles Conference (ESC) is hosted annually to bring together members from the whatsApp group and other SWALians around the globe to learn and equip themselves on how to live effective lives as singles. This is also the time these singles meet together to mingle, pray for themselves and put into use their God given talents as a form of encouragement to go out there and be useful as individuals.
There has been increased number of attendees each year and a lot of testimonies on the changes the ESC has had in the lives of SWALians some of which can be found on the SWALian's blog, YouTube and on the facebook page.
This conference is currently held in Ghana because this is where most of our members reside but, SWAL aims to host conferences in other countries as the vision continues to spread.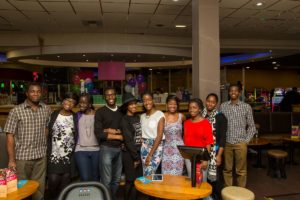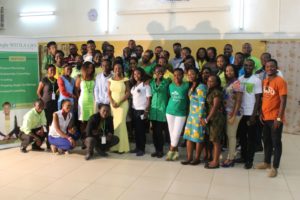 Ghana 2015 UK 2015 GHANA 2016 GHANA 2017
SINGLES DAY OUT_UK & Ghana 2015
Our very first Singles Day Out (SDO) which is now run as Effective Singles Conference (ESC) was held on 4th November 2015 in two countries Ghana and United Kingdom (UK) with the theme: Purpose Discovery.
The venue for the SDO Ghana and UK was at Holiday Inn and Surrey Quays Leisure Park (Hollywood Bowl) respectively. The SDO hosted 33 attendees in Ghana and 13 in the UK.
This SDO was also organised to hold in the United States of America on the same day as Ghana and UK but unfortunately, it could not hold as a result of circumstances beyond our control.
The Ghana SDO was held by the First SWAL Head coordinator: Mr Emmanuel Alvin Mcwashington the President of MLG Africa on behalf of the Founder and CEO of SWAL; Miss Peace Adams who was overseeing the UK SDO.
Miss Peace Adams received massive support from MLG africa whose President was very key in helping to lay the right foundations for the SWAL vision. It is important to mention that MLG Africa and SWAL partnership although lasted for 6 months, was very timely and divine due to the positive impact it had on the SWAL Vision especially. SWAL will forever be grateful to God for her connection to MLG Africa and the lessons learnt through their partnership over the 6 months.
Feedback from the SDO was encouraging and attendees were pleased to have attended in both countries.
UK 2015 PHOTOS
GHANA 2015 PHOTOS
SINLGES EVENT/SEMINAR_Ghana 2016
The Singles Event/seminar 2016 was held at the Nurses Guest House Accra Ghana with the theme: Waiting Effectively on 28th May. The conference hosted 53 attendees who are mostly SWALians from the whatsApp group and other Non-SWALians who later became part of the whatsApp group.
The CEO, Miss Peace Adams held the first training session for the leadership team on 27th May where she met all of these leaders raised from the whatsApp group for the very first time. It was an exciting whole day training where the leadership team was privileged to meet each other and gained more understanding on the SWAL Vision.
This conference led to an increase in the membership of the SWAL whatsApp group of 181 to 250 members due to the impactation the teachings at the conference had on the lives of attendees.
More leaders were raised through this conference who are still serving the SWAL Vision till date.
Over all, this conference was successful thanks to God and our hardworking leaders.
LEADERS TRAINING SESSION
GHANA 2016 PHOTOS
GHANA 2016 VIDEOS
EFFECTIVE SINGLES CONFERENCE_Ghana 2017
The 2 days Effective Singles Conference (ESC) 2017 was held at Nurses Guest House Accra Ghana. It started on the evening of Thursday 28th December with testimonies and prayer time where our singles and speakers were given the opportunity to share some of the challenges which hindered or almost hindered their effectiveness.
The coordinators were given a whole day training on the SWAL vision from the morning of Thursday 28th. Most of these coordinators were meeting the CEO; Miss Peace Adams and other coordinators for the first time.
The conference was successfully brought to an end on Friday 29th December during which the theme of the conference; VISIONING was well explained by our main speaker: Mr Michael Quansah, founder and CEO of Virtue Publications and Vision Academy. Mr Quansah spoke on how to discover vision and pursue it.
Miss Peace Adams, the Founder and CEO of SWAL took her time to equip our singles on the challenges involved in running a vision using herself as an example on some of the experiences she's encountered so far. She further explained how she could only break through with her vision with the backing of God who has been her main source of strength and protection.
The conference was graced with Pastor Charles Ansah-Ditshnell from the Throne of God's Grace Ministries as the Guest Speaker. He delved more into the spiritual side of visioning and the importance of guarding vision with prayer.
There is no doubt that this conference changed the lives of the 87 attendees mainly members from our whatsApp Group and singles from Ghana including 3 SWAL Nigeria Coordinators; Yanmife Praise Aghorunse, Mary Treasure Akotonayon and Omolola Kehinde Raji who came to Ghana for the very first time.
It is always fun when our singles comes together especially, as they get the opportunity not only to equip themselves, pray and receive answers but, to mingle and form lasting friendships and relationships with singles from different cultural backgrounds.
The testimonies from our singles during and after this conference was inspiring and we are thankful to God for making it possible for SWAL to host this conference.
We would like to thank and appreciate all our Sponsors who were mainly members of our whatsApp Group and friends of Miss Peace Adams for their financial support and prayers.
A massive thank you to all the hardworking coordinators for their sacrificial service in SWAL for the years they have been with us so far. May God replenish and water you all for been a blessing to SWAL, to her singles and to the world at large.
Videos from ESC-2017
ABOUT HANGOUTS
SWAL organises yearly hangouts in the various countries currently in Ghana, UK and Nigeria to bring members together before our main Effective Singles Conferences. These hangouts are a great opportunity for singles from different backgrounds to meet, mingle and form possible long lasting friendships and relationships.
SWALians especially those on our whatsApp group are always encouraged to attend these hangouts in order to build a good rapport with each other and plan with the Regional or Country Leaders by voicing out concerns and giving suggestions towards our annual Effective Singles Conference.
The dates for our next hangouts in the various countries will be announced well in time on our social media platforms especially Facebook and WhatsApp for those interested in attending to contact the leaders in charge.
GHANA 2016 Hangout
NIGERIA 2016 Hangout